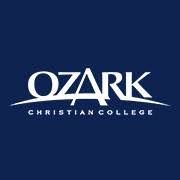 Ozark Christian College
VISION AND MISSION
The vision of Ozark Christian College is to glorify God by evangelizing the lost and edifying Christians worldwide. The mission of Ozark Christian College is to train men and women for Christian service as a degree-granting institution of biblical higher education. Emphasis is given to vocational preparation for preaching ministers, missionaries, worship ministers, youth ministers and children's ministers. Biblical and practical training is also provided for those who will serve in the church in non-vocational roles such as elders, deacons, Bible school teachers and youth sponsors.
Ozark Christian College seeks to glorify God by doing his will. God's truth we must "entrust to faithful men, who will be able to teach others also" (2 Timothy 2:2). We are involved in declaring the wisdom of God (Ephesians 3:7-12). We share in the work of equipping "the saints for the work of service, to the building up of the body of Christ; until we all attain to the unity of the faith, and of the knowledge of the Son of God, to a mature man, to the measure of the stature which belongs to the fullness of Christ…speaking the truth in love, we are to grow up in all aspects into him, who is the head, even Christ" (Ephesians 4:12,13,15).
We accomplish this purpose of God stated by Paul: "God willed to make known what are the riches of the glory of this mystery among the Gentiles, which is Christ in you, the hope of glory. And we proclaim him, admonishing every man and teaching every man with all wisdom, that we may present every man complete in Christ. And for this purpose also I labor, striving according to his power, which mightily works within me" (Colossians 1:27-29). "The goal of our instruction is love from a pure heart and a good conscience and a sincere faith" (I Timothy 1:5).